Growing up near Nelson, WI, now lives and creates sculpture there after living and creating in University Park, MD (greater Washington, DC). Wrote science fiction novel - black box and children's books - T!rrific [terrific] - What will you do to thrive? and Angel, Creator of Artful Things. Wrote books about building a thriving future including Thrive! - Building a Thriving Future and Thrive! - People's Guide to a Thriving Future. Throughout his policy career, has worked on national and local policy issues and on health and human service systems, models and reform. His major priority is and has been creating and sustaining large, positive, and timely change and helping build a thriving future for all forever. Thrive! Website - ThrivingFuture.org
New Book on Chris - A Life in Pursuit of Thriving for All
This is the story of and by Chris [Gary "Chris" Christopherson] and his lifelong pursuit of a thriving future – all thrive forever. It begins and ends in rural western Wisconsin. But so much happens, much in Washington (DC), in the intervening 70+ years. Available in paperback and eBook via Amazon.com or as a free download [PDF]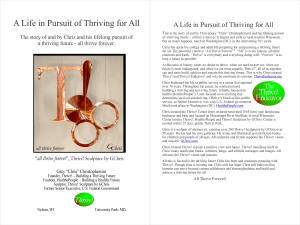 New Video on Chris - A Life in Pursuit of Thriving for All
This is a video of and by Chris [Gary "Chris" Christopherson] and his lifelong pursuit of a thriving future – all thrive forever. It begins and ends in rural western Wisconsin. But so much happens, much in Washington (DC), in the intervening 70+ years.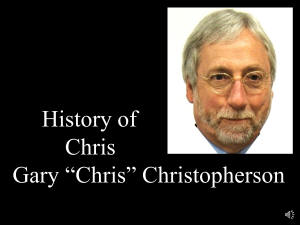 Background on Sculpture
Creates Thrive! sculpture (including mobiles and stabiles) under the signature GChris. His primary artistic influence is Alexander Calder.
Thrive! abstract sculpture by GChris is mission-driven. GChris sculpture supports our creating and sustaining large, positive change and achieving a thriving future for all forever.
Thrive! sculptures by GChris utilize natural materials -- copper and wood. Woods are primarily American hardwoods -- mostly black walnut -- with contrasts provided by exotic African and South American woods. Copper is used in many forms and takes each work through a living process.
GChris sculptures are to be interacted with and "gently touched". Some are copper or wood or both. Sizes range from a foot to dozen feet or larger. Some make sounds when moved by wind or people; some remain silent. Some move physically; some move conceptually. All generate shadows, a second image.
Existing Thrive! sculpture (e.g., mobiles and stabiles) by GChris may be donated and number over 100 pieces with dimensions ranging from a few inches to 12 feet and larger.
Background on Policy & Management
Founder, "Thrive! - Building a Thriving Future", "viaFuture", and "Vulnerable"

Founder "HealthePeople - Building a Healthy and Thriving Future"

Acting Assistant Secretary, Principal Deputy Assistant Secretary, and Senior Advisor for Health Affairs, DoD

Senior Advisor to Chief Operating Officer, Centers for Medicare and Medicaid Services

Senior Advisor to Under Secretary for Health, Veterans Health Administration.

Associate Director, Office of Presidential Personnel, White House.

Senior Fellow / Scholar-in-Residence, Institute of Medicine, National Academy of Sciences

Fellow, National Academy of Public Administration

Deputy Director, Quality Improvement Group, Centers for Medicare and Medicaid Services.

Chief Information Officer, Veterans Health Admini
stration

Senior Advisor for Force Health Protection, Assistant Secretary for Reserve Affairs, DoD

Director of Health Legislation, U.S. House Select Committee on Aging.
Bachelor's in Political Science and Master's in Urban and Regional Planning from University of Wisconsin - Madison. Doctoral work at John Hopkins University School of Public Health.